DACPOL Company has been operating on the market since 1992.
We specialize in comprehensive distribution of components for: power electronics, electrical engineering, electronics, power engineering, and process automation. We do not only work in commerce, but also provide consultancy, services and manufacture of the components.
We represent over 300 leading producers of active and passive power components, measuring equipment and power supply converters, fans, heat sinks, inductive components, equipment for cabinet air-conditioning, cables, connectors, and insulating materials.
Our company offers an extensive range of elements for industrial automatics and workshop equipment (tools, measuring devices, chemical substances, etc.), as well as the accumulators. We design and manufacture power units, inductive heating, produce and service measuring industrial equipment..
Periodically, we issue our own product catalogues. The General DACPOL Catalogue gathers in one volume all of the components that are required for the construction and devices' service. It includes technical information and theoretic issues, which can be useful in selection of the elements. The application index is a novelty on our site, so it can help with finding particular components used in a given application.
Our products' main receivers are, among others:
Producers of: AC and DC drive units, electrical welding equipment, power supplies, equipment for electrical tram and rail traction, electrical equipment for cars, consumer electronics, radio-television devices, etc.,
Research institutes,
Establishments that maintain and mend assembly lines,
Service centers,
Commercial businesses.
Continuous development of the products offer is possible thanks to the constant increasing of our storage space and efficient acceptance and delivering of the orders.
In 2007 we formulated and deployed a quality management system ISO 9001. In 2009 we renewed the ISO 9001:2015-10 quality system. The certification and supervision is executed by Polish center of research and certification - Polskie Centrum Badań i Certyfikacji.
Within the last decade, DACPOL Company repeatedly acquired the commendation of "GAZELA BIZNESU", granted by the Puls Biznesu journal for the most dynamic small and medium businesses.
DACPOL for last few years has been granted with awards of Diamenty Forbesa (Forbes' Diamonds) – given by the Forbes monthly magazine – and is on the prestigious list of Forbes' "Most valuable family businesses."
We hope that our flexibility, continuous extending and adjusting our offer to the market's requirements and need, as well as the actions taken to improve quality of the services, will lead to the efficient way of satisfying the needs of our current and future clients. In 2011 we acquired a certificate of reliability.
We became the Laureate of the Plebiscite organized by Euler Hermes, and we were granted with the "Złoty Płatnik" certificate (Golden Payer) . This award is acquired by the businesses for maintaining the highest payment standards in a given year.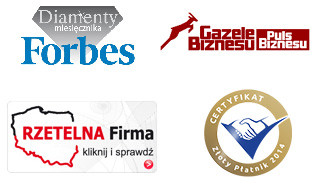 Fast, welcoming and professional service
Our company's indisputable asset is the professional team of technical consultants, who advise our clients in choosing the right solutions and products.
Currently, there are 45 engineers available, who specialize in particular assortment groups.
We are available from Monday to Friday, from 7:30 a.m to 5:00 p.m.
Warehouse
The purchased goods will be delivered to you from our warehouse in 24 h.
On request, we also maintain reserves of the given products. AThere is a possibility for all contract goods to be available 24/7.
Deliveries take place from 8 am to 4:30 pm.
Export
We also handle the export of components and devices to European markets, but also the USA, Canada and Far East.
The trade to eastern markets is conducted through our own representatives in Kiev and Vilnius, or through our network of business partners and distributors in Russia, Belarus, Latvia, Estonia and Romania.
We also handle promotion and trade of the goods produced in Poland to the mentioned above countries.
We received the Certyfikat Wiarygodnego Partnera w Biznesie - Certificate of a Reliable Business partner - issued by the Polish-Ukrainian House of Economy (Polsko-Ukraińską Izbę Gospodarczą).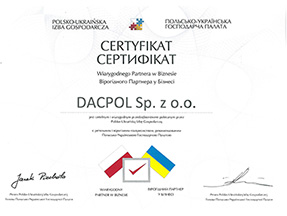 "The Passport to Export"
DACPOL conducted a project called "The Passport to Export" ("Paszport do eksportu") co-funded with the European Fund of Regional Development from the Operational Program of Innovative Economy (Europejskiego Funduszu Rozwoju Regionalnego z Programu Operacyjnego Innowacyjna Gospodarka) 2007-2013.
Guest rooms - Conference Center