Photos are for informational purposes only. View product specification
Limit switches 14CE series
The CE circuit-breaker family are miniature limit switches in compact metal housings with leads or connectors. The entire CE range meets the requirements of the low voltage directive. CE connectors have a tightness class from IP65 to IP67.
Properties
compact construction
versions with cable or with connector
zinc die cast housing
large selection of levers
group mounting option
different lead-out lengths
cable / connector led out from below or from the side
easy installation with two screws
low temperature version
protection degree IP65 to IP67
Advantages
perfect for applications where space is limited
quick and easy assembly
suitable for use in harsh environments
multiple switching in a small space
a large selection of applications
suitable for aggressive environments
Technical data
| | |
| --- | --- |
| durability: | 10 milions operations |
| level of security: | standard IP65 |
|   | version 'K' IP66 |
|   | rubber seal IP67 |
| operating temperature: | 0...70°C |
| compliance with standards: | IEC 60947-5-1, |
|   | EN 60947-5-1, |
|   | AC14 D300 |
|   | DC13 R300 |
| insulation voltage: | 250V |
| breakdown voltage: | l,5kV |
Dimensions [mm]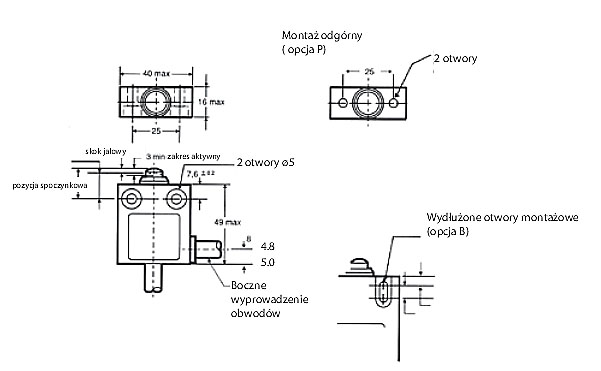 Type of leverage
Styk szybki
Cable / connector
Options
Enter the cable length, change every 1 m, e.g. 1 = 1 meter, 2 = 2 meters. Usually the maximum cable length is 4m. Version L - cable: 4 wires in a silicone shield, brown. If version Q or Q1 has been selected, the cable length should be omitted.

A: lateral cable or connector outlet,

B: elongated mounting holes,

D: halogen-free wire,

G: gold contacts,

H: increased operating temperature (0 ... 120 ° C),

K: pusher with O-ring sealing,

NOTE: the O-ring seal increases the closing force OF. up to 22.5N

L: low operating temperature (-40 ... 70 ° C) ,,

L1: low operating temperature as in the version

L, but the hose is not flexible,

Q: DC type connector, M12,4 pole

Q1: AC type connector, 1 "x20, 4-pole,

V: FC (Fluorocarbon) seal,

P: top mounting

NOTE: Several options are allowed, but not all connections may be allowed. If you choose several options, please place them in alphabetical order, e.g. 14CE31-3AK. Levers are ordered separately.

Pusher
Version Q - DC type connector, M12,4 pole
Pusher with a parallel roller
Pusher with perpendicular roller
Version Q1 - AC type connector, 1/2 "x20, 4-pole
Rotary drive
Tappet with a seal
Lead
Pusher with a parallel roller and seal
Pusher with perpendicular roller and seal
Popychacz z kulką
 
Additional lever types - dimensions [mm]
6PA71-4, 6PA78-4

6PA44-4, 6PA56-4

6PA68-4

6PA67-4

6PA64-4

6PA68-4

6PA67-4

6PA64-4

Send an inquiry
Are you interested in this product? Do you need additional information or individual pricing?
Contact us
ASK FOR THE PRODUCT
close
Message sent successfully.
ASK FOR THE PRODUCT
close
download pdf