Photos are for informational purposes only. View product specification
Measurement elements and modules
Miniature Humidity/Temperatur-Sensor calHT
MELA® miniature humidity sensors in the calHT series are used for measuring relative humidity and temperature
in air and other non-aggressive gases. The sensors are based on the capacitive MELA® sensor element with its good
dynamic performance and high long-term stability.
Despite its small size of only 5 x 8 mm the calHT offers a complete calibrated humidity-temperature sensor available
with analogue output 0 ... 1 V or as digital sensor with output similar to I2C.
Therefore the calHT is an excellent choice for a large number of OEM applications e. g. in the consumer goods industry.The sensors can also be supplied with a protective frame as a grip protector.
Technical Data:
 
 
Relative Humidity
- measuring range
0 ... 100 % rh
- resolution
0,5 %rh
- accuracy
±2 %rh 05".35°C 25...85 %rh)
 
±3 %rh (15...35°C, 5...25 %rh and 85...95 %rh)
- Additional error
±0,1 % rh/K @t35°C
Temperature
- measuring ranges
see table
- resolution
0.1°C
-accuracy
0.5 K @ 25°C ±1 digit
digit(see diagram)
 
General:
- operating voltage
5...30 V DC
- output signal:
 
calHT01/1, calHT01/2
2 x 0...1 V (przy RL 3 1 MΩ)
calHT 06/1, calHT 06/2
digit  (compatible with I2C)
- storage temperature
- 65 ... 150°C
- working temperature
- 40 ... 85°C
- power consumption
< 1 mA
Type
Measuring range
[°C]

Labelling

calHT01-0100(.R)
0...100

Green

calHT01-3070(.R)
-30...70
Black
calHT01-2080(.R)
-20..80
Red
calHT01-4060(.R)
-40...60

Yellow

calHT06-4085(.R)
-40...85

White


| | |
| --- | --- |
| | |
| Temperature accuracy of calHT 01 and calHT 06 series | Temperature accuracy of calHT 01 and calHT 06 series |
Dimensions [mm]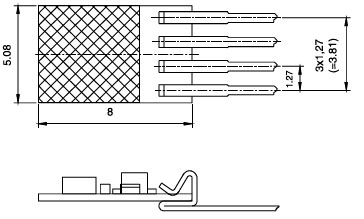 Especially for Sensor calHT06 (similar to I2C-output)
Microcontroller sends command for read-out of one byte
S
1
0
0
1
0
0
0
0
A
0
0
0
0
C
4
C
3
C
2
C
1
A
P
R/W

Microcontroller requests data byte according control command and reads out
S
1
0
0
1
0
0
0
1
A
D
7
D
6
D
5
D
4
D
3
D
2
D
1
D
0
N
A
P
S Start

R/W

P Stop
A Acknowledge
 
 
from sensor
N/A No Acknowledge
C
4
C
3
C
2
C
1
 
0
0
0
0
Read-Out Humidity
0
0
1
0
Read-Out Temperature Byte 1
0
0
1
1
Read-Out Temperature Byte 2
D
7
D
6

D
5

D
4
D
3
D
2
D
1
D
0
 
0/1
0/1
0/1
0/1
0/1
0/1
0/1
0/1
Humidity
0/1
0/1
0/1
0/1
0/1
0/1
0/1
0/1
Temperature Byte 1
X
X
X
X
0/1
0/1
0/1
0/1
Temperature Byte 2
X explicitly put on "0"
Humidity = decimal value humidity * 0.5
Temperature = (decimal value temp.* 0.125)-40
[decimal value DV temp. = DV Byte 1+ (DV Byte 2 AND 15)* 256]
Serial Protocol
| Symbol | Parameter | min | max | jednostka |
| --- | --- | --- | --- | --- |
| tBUF | idle period between BUS actions | 4,7 |   | μs |
| tD:SU | data set-up time | 250 |   | ns |
| tD:HD | data hold time | 50 |   | ns |
| tST:HD | start hold time | 4 |   | μs |
| tST:SU | start set-up time | 4,7 |   | μs |
| tSCL:L | SCL"low" time | 4,7 |   | μs |
| tSCL:H | SCL "high" time | 4 |   | μs |
| fSCL | SCL frequency |   | 100 | kHz |
| t r | SDA, SCL LOW/HIGH time |   | 1 | μs |
| tf | SDA, SCL HIGH/LOW time |   | 0,3 | μs |
| tSTO:SU | stop set-up time | 4 |   | μs |
| tSP | pulse width of spikes to be suppressed by input filter |   | 100 | ns |
| CL | capacitive load SDA, SCL BUS (internal pull-up 120 kW) |   | 10 | pF |
| tMUPD | update for measurement values |   | 40 | ms |
| tSMPL | sampling period DA converter | 2 | 6 | ms |
Signal characteristics at 25 °C and 3.3 V I2C BUS voltage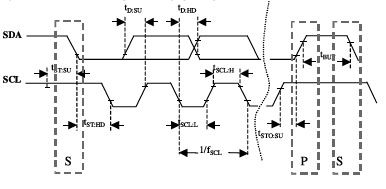 ELEMENTY POMIAROWE WILGOTNOŚCI I TEMPERATURY
Elementy pomiarowe MELA są stosowane do pomiaru wilgotności względnej w powietrzu i innych nieagresywnych gazach przy zachowaniu zasad pomiarowych dla elementu pojemnościowego. Na szklistą ceramiczną płytkę naniesiony jest system elektrod i czułej na wilgoć warstwy polimerowej. Warstwa ta stanowi kondensator reagujący na wilgoć, którego pojemność daje pogląd na wilgotność względną otoczenia. Wykonywanych jest kilka typów elementów pomiarowych z różnymi strukturami warstwy i innymi wymiarami. Typy te różnią się głównie warunkami wpływu zewnętrznej rezystancji i pojemnością. Pozwala to na zastosowanie ich w wielu różnych aplikacjach. Wszystkie elementy pomiarowe posiadają bardzo dobre własności dynamiczne, wykazują długotermiową stabilność i są wodoodporne, co oznacza że element jest odp