Photos are for informational purposes only. View product specification
DI series - room version with optional display
dynamic MELA® humidity sensing element
calibrated dModul for
humidity and temperature measurement
with integrated measuring chamber
easy to install
operating temperatures up to 60°C

The core part of the D Series is the digital calibrated dModul, which processes the measurement values of relative humidity and temperature individually. The values are compared to the calibration values stored in the dModul and communicated
digitally to the transmitter electronics, where they are processed to standardised current and voltage signals.
The integrated measuring chamber of the room version is separated from the electronics. Thus, a good air circulation around the sensing elements is provided.
The housing of the room version has a simple and robust closing mechanism. After mounting the base part, the top which contains the transmitter electronics, can be easily clipped into place and pressed shut without any tool.
Technical data

Humidity
output range
0...100%rh
measuring element
capacitive MELA FE09
measuring uncertainty
 
(40...60%rh @23°C)
±2,5% rh
(10...40%rh and 60...90%rh
przy 23°C)
±3% rh
influence of temperature
40°C
±0,05%rh/K

Temperature
measuring element
Pt1000
output ranges
-0...+50°C
 
-30...+70°C
 
0...+100°C
further ranges on request
measuring uncertainty
sensors with active temperature signal
 
voltage output
@ 10...40°C
±0,25 K
current output 
@ 10...40°C
±0,4 K
influence of temperature
±0,01 K/K
General data
 
measuring medium
air, pressureless, non-aggressive
 
operating temperatures
-30...+60°C
storage temperatures
-40...+85°C
connection
connecting terminals
wire diameter per connector
max. 1,5mm2
cable diameter
max. 7mm
 
(5 mm recommended)
degree of protection
IP30D
material of housing
ABS
color of housing
RAL 9003
Options
display:
 
2 lines
 
3 digits + 1 decimal place
 
display approx. 21 x 40 mm²
Electrical data
 
outputs
0...1V DC
 
0...10V DC
 
4...20mA
passive temperature outputs on request
 
voltage supply
see type survey
consumption of electronics
(voltage output)
typ. 7mA
load RL
(current output)
min. load resistance
(voltage output)
 
 
>10 kΩ
electromagnetic
compatibility
ref. EN 61326-1
 
and EN 61326-2-3
Load at current output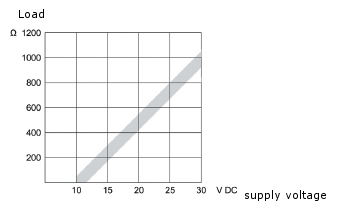 Humidity sensor
Type
Housing
DFI
Room version
optional display

| Physical variable | Output signal corresponds to |
| --- | --- |
| relative humidity | 0...100%rh |

Signal output
Voltage-
supply UB
0..1V
6...30 V DC
6...26 V AC
0..10VDc
15…30 V DC
13...26 V AC
4...20mA
10…25 V DC
Type survey DIK
Type
Housing
DIK
Room version
optional display

Physical variable
Output signal corresponds to
relative humidity
0...100%rh
temperature
-30…+70°C
0…+100°C
0…+50°C

Signal output
Voltage-
supply UB
2 x 0..1V
6...30 V DC
6...26 V AC
2 x 0..10VDc
15…30 V DC
13...26 V AC
2 x 4...20mA
10…25 V DC
Dimensions [mm]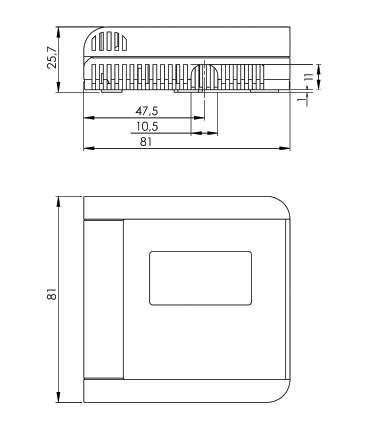 Send an inquiry
Are you interested in this product? Do you need additional information or individual pricing?
Contact us