Photos are for informational purposes only. View product specification
Fiber pyrometers - IR-FA series
IR-FA is monochromatic fibre pyrometers which allow to measure temperature in range 200 - 3000°C.
Type
IR-FAI
IR-FAS
Measuring system
Single color type
Element
InGaAs
Si
Wavelength
monochromatic
Accuracy ratings
Lower than 1000°C: ±5°C
1000°C to 1500°C: ±0.5% of measured value
1500°C to 2000°C: ±1.0% of measured value
Higher than 2000°C: ±2% of measured value
Repeatability
0,2°C
Temperature drift
0.1°C/°C or 0.015% of measured value,
whichever is larger
Resolution
0,5°C
Response time
0,01 s
Emissivity
(ratio) compensation: 1,999 ... 0,500
Signal modulation
DELAY: Tracing of average value (smoothing) (Modulation ratio: 0.0 to 99.9 seconds, 0.1 second increment)
Modulation ratio 0 = REAL
PEAK: Tracing of maximum value ( Modulation ratio: 0, 2, 5, 10°C/second ), Modulation ratio 0 = PEAK HOLDi
Display
LCD 4-digit (Temperature display, parameter display), °C/°F (key selection)
Analog output
4 to 20mADC isolated output (load resistance: 500Ω or lower)
Accuracy rating: ±0.2% of output range
Output resolution: 0.01% of output range (IR─FAC); 0.01% of output range (except IR─FAC)
Output scaling: Setting within measuring temperature range
Dummy output: Setting within 0 to 100% of analog output
Contact output
1-point, High (low) alarm or error signal, Photo-coupler 30VDC
Maximum 50mA
Contact input
1-point, peak hold reset or sample hold, Dry contact or open collector
Parameter setting by keys
Operator mode: Settings of emissivity, signal modulation, alarms, etc.
Engineering mode: Settings of engineering unit (°C/°F), output scaling,
zero, span, reference temperature input for automatic
emissivity calculation, output correction, etc., Settings
of optional functions
Computing function
Zero/span adjustment, automatic emissivity (ratio) computation (*2), Output correction
Self-diagnosis
Thermometer temperature abnormal, Parameter error
Options
Laser function
Solid state built-in laser unit, 1mW (645nm) or less, Class 2 (not available in high sensitivity type)
Analog input
Input signal: 4 to 20mADC
Remote setting of emissivity (ratio) or reference temperature input setting for automatic emissivity (ratio) computation
Communications IF
RS─485, Transmitting of measured data (down to 1 decimal point), Transmitting/receiving of parameters
Working temperature
0...50oC
Rated power supply
24VDC (Allowable voltage fluctuation range: 22 to 28VDC), Recommended power unit: IR─ZFEP
Power consumption
Maximum 3VA
Connection
Cramp type no screw terminals
Mounting
DIN rail mounting or wall mounting
Case material
Resin
Dimensions
90x90x60 mm
Weight
About 0,25 kg
CE CE
EN55011 Grupa 1 Klasa A, EN50082-2
Type
Distance/diameter [mm]
Type
Distance/diameter [mm]
IR-FL0H
IR-FL0N
IR-FL4H
IR-FL4N
IR-FL1H
IR-FL1N
IR-FL5H
IR-FL5N
IR-FL2H
IR-FL2N
IR-FL6H
IR-FL6N
IR-FL3H
IR-FL3N
IR-FL8H
IR-FL8N

Type Measuring
range Lens assembly


IR-FAI
150...450°C*
200...700°C
250...1000°C
300...1300°C
IR-FL5
IR-FL6
250...1000°C
300...1300°C
350...1600°C
IR-FL0,IR-FL1
IR-FL2,IR-FL3
IR-FL4,IR-FL8
IR-FAS
400...900°C*
500...1200°C
600...1800°C
700...2400°C
IR-FL5
IR-FL6
600...1800°C
700...2400°C
800...3000°C
IR-FL0,IR-FL1
IR-FL2,IR-FL3
IR-FL4,IR-FL8

 
Dimensions [mm]
Pyrometer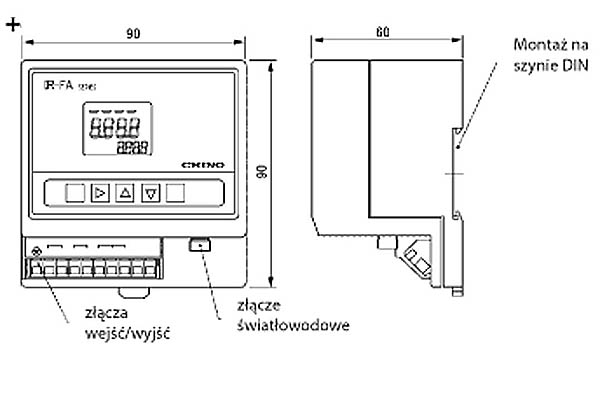 Fiber without metallic protection tube

Fiber with metallic protection tube

Lens assembly

Air purge case

Soczewki0,1,2,345678

IR-FAI,FAS
L
35
15
10
10,5
-
45
D
7,5
-
7,5

Soczewki0,1,2,345678

IR-FAI,FAS
FAQ
L
10
30
35
34,5
-
0

Lens assembly

Element
I: InGaAs
S: Si
External input/output (option)
N: Not provided
S: Communications interface
RS-485
5: Analog input, 4 to 20mADC
Laser function (option)
N: Not provided
L: Built-in
High sensitivity type
N: Not provided
U: High sensitivity type
(without laser)

Distance and diameter
0: Ø 1mm/100mm
1: Ø 12mm/1000mm
2: Ø 5mm/500mm
3: Ø 2mm/200mm
4: Ø 4mm/200mm
5: Ø 5mm/150mm
6: Ø 20mm/600mm
8: Ø 8mm/1000mm
Air purge case
N: Not provided
A: Provided
Fiber sheath
H: Without metallic protective
tube
M: With metallic protective
tube
Fiber length
02:2 m
04:4 m
Send an inquiry
Are you interested in this product? Do you need additional information or individual pricing?
Contact us
ASK FOR THE PRODUCT
close
Message sent successfully.
ASK FOR THE PRODUCT
close
download pdf