Photos are for informational purposes only. View product specification
RE NA003 - A system for the protection of renewable energy sources
The new grid and system protection is at home all over the world and guarantees a secure link between decentralized energy producer and public grid. The new RE NA003 with its compact design covers all main country standards in one device. All relevant parameters can be flexibly set directly in the field via Open Setup. This allows for permanently programmed, country specific standards to be individually adapter if required. For the first time, operation in single and three-phase grids is possible through simple switching. The new grid and system protection from Tele is suitable for medium and low voltages
The characteristics of NA003 as a good grid and system protector:
Functional safety
Voltage drop protection; overvoltage protection; monitoring of voltage quality
Frequency drop protection; frequency rise protection
Detection of off-grid operation
Wide rated voltage and rated frequency range, adjustable rated voltage
Iconography that presents where NA003 have to be installed: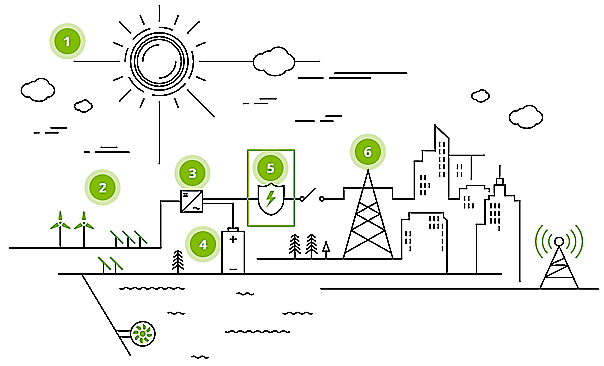 Renewable Energy source (sun, wind)
Conversion renewable Energy into electricity (wind turbine, PV panels)
Power electronic converter
Energy storage
Protecting system (DA003 and switches)
Public grid
Rated data:
Supply circuit
Terminals
A1 (L), A2 (N)
Supply voltage
DC: 24V
AC: 110-230V
Supply voltage tolerance
DC: ±10%
AC: ±30%
Rated frequency
50/60Hz
Tolerance of rated frequency
48 – 63Hz
Rated surge voltage
4kV
Measuring circuit
Terminals
L1, L2, L3, N
Measuring input
3x400V AC
Measurand
line to line voltage, line to neutral voltage, 10 minutes average voltage, frequency, rate of change of frequency (RoCoF), phase shift (PShift)
Measuring ranges
Line to line voltage
0-560V AC
Line to neutral voltage
0-325V AC
Frequency
40-60Hz
RoCoF
100mHz/s-2Hz/s
PShift
1-15°
Digital inputs
Terminals
I1 i  ⊥, I2 i  ⊥, I3 i  ⊥, I4/I5 i  ⊥
Type of contact
potential free
Min. switching voltage/current
24V/5mA
Output circuit
Terminals
11-12-14; 21-22-24; 31-32-34;
Number of contacts
3 changeover
Contact material
AgNi
Rated current
5A/250V AC
Electrical endurance
100x103switching cycles (AC-1)
Mechanical endurance
15x106switching cycles
Accuracy
Base accuracy (voltage)
<0,5% @ 25°C
Temperature influence
<0,01%/°C
Resolution
10mV
Base accuracy (frequency)
<0,01 Hz dla 25°C
Temperature influence
<0,00002Hz/°C
Resolution
1mHz
Isolation data
Rated insulation voltage
400V
Supply circuit/measuring circuit
protective separation
Supply circuit/output circuit
protective separation
Supply circuit/digital inputs
protective separation
Output circuit/measuring circuit
protective separation
Output circuit/digital inputs
protective separation
Environmental conditions
Ambient temperature operation
-25…55°C
Ambient temperature storage
-40…70°C
Ambient temperature display
-15…55°C
Relative humidity
5…95% (non-condensing)
Weight
300g
Electrical connection
Wire size
max. 2,5mm2
Stripping length
max. 8mm
Electrical strength
max. 450V/16A (digital inputs, relay outputs)
max. 750V/16A (measuring inputs)
Torque
max. 0,5Nm
Screw
M3, slotted recess for screw driver 0,6 x 3,5mm
Sealing wire
dMAX = 0,8mm
In order to ensure the proper function during power failures, an external UPS has to be used.
Send an inquiry
Are you interested in this product? Do you need additional information or individual pricing?
Contact us
ASK FOR THE PRODUCT
close
Message sent successfully.
ASK FOR THE PRODUCT
close
download pdf