Photos are for informational purposes only. View product specification
Humidity and temperature sensors in "LIGHT" version
Description
These sensors have been specially adapted to the needs of the ventilation and air-conditioning sector.
They come in three series (the WL series for wall mounting, the KL series for duct installation and the PL series with a cable for suspension from any location). The KL and PL series are equipped with gauze fi lters as standard. Other
fi lters are available on request. Use of capacitive humidity sensor elements is a guarantee of high long-term stability, resistance to dew formation, small hysteresis and good dynamic performance.
Technical Data:
Humidity
 
 
• measuring range
0...100 %rh
 
• sensing element
Voltage output (30...80%rh @15...35°C)
±3%rh
 
Voltage output(30...80%rh @15...35°C)
±5%rh
 
 
 
• minimum air speed :
lm/s
 
• Calibration:
1 point
 
• measuring medium:
air, pressureless, non-aggressive
 
•
 
 
• Only KL and PL:
4...20mA
 
 
 
 
Temperature with active output
 
 
• measuring range
0...50°C     Inne zakresy na zamówienie
 
• accuracy (10...40°C):
±1 K
 
• calibration:
1 punkt dla 23 °C
 
• output
0...10V
 
• Only KL and PL:
4...20mA
 
 
 
 
Electrical Data
 
 
• power supply::
 
 
• current output (KL) (PL)
12...24VDC*
 
• voltage output
24V AC/DC ±10%
 
• voltage output (duct-version)
15...30V DC  
 
• load (voltage output only)
>10 kO
 
• Current
około 5mA
 
• ambient temperature
-20 ...+80°C
 
• electromagnetic compatibilityEMC:
 
 
• Emitted interference
EN 55011 Kl. B
 
• Noise immunity
EN 50082-2
 
• Measuring element
 
 
• Humidity
capacity FE09
 
• Temperature:
LM35
 
• sensor tube :
02Omm aluminium
 
• housing:
light grey ABS
 
• protective system
 
 
• WL:
IP30
 
• PL, KL:
IP54
 
• Temperature, passive element
 
 
• Measuring element:
NTC, PTC, KTY or LMx35
 
 
Pt100, Pt1000
 
User instructions
Install these sensors at a place where characteristic climatic conditions occur. The wall-mounting sensors can be installed on flush-mounted sockets on installation systems and directly onto the wall. Avoid installing them close to heaters or windows or against outside walls. The sensors with the connection cable can be suspended directly from the cable. In principle, the sensors do not require any maintenance. However, the dynamic behaviour of the sensor may be affected if it is exposed to too much dust. In this case, clean the sensor element by blowing the dust off. In the case of the KL and PL series, clean the sensors by rinsing them carefully in distilled water. Never touch the highly sensitive sensor element. Please consult the application instructions for the sensing elements (product info sheet no. A 1) or check with the manufacturer for further information which you need to bear in mind when using
Type versions
Measured
variable
Output
WL series
wall
KL series
duct
PL series
rod-haped
F
rel. humidity
0...10 V
FWL2/5
FKL2/5
FPL2/5
4...20 mA
FWL3/5
FKL3/5
FPL3/5
K
r.h. + temp.
2x0..10V
KWL2/5
KKL2/5
KPL2/5
2x4...20 mA
KWL3/5
KKL3/5
KPL3/5
T
temperature
0...10V
TWL2/5
TKL2/5
TPL2/5
4...20 mA
TWL3/5
TKL3/5
TPL3/5
Pt100
TWL5/5
TKL5/5
TPL5/5
C
r.h. + temp.
passive
0...10V+T
CWL2/5-X
CKL2/5-X
CPL2/5-X
4...20mA+T
CWL3/5-X
CKL3/5-X
CPL3/5-X
Weight approx.
80g
330g
120g
DIAGRAM PODŁĄCZENIOWY SERII KL
 
terminals
ranges
VERSION 0...1OVDC
supply
(1-) (2+)
(1~) (2~)
15...30 VDC
24 V AC ±10%
humidity
(3) (4+)
0...10 VDC
temperature
(5) (6+)
0...10VDC
temperature
(5) (6)
czujnik pasywny
Ekran
(7)
 
not galvanic disconnected negative pole (1-) (3) (5) = common
 
terminals
ranges
VERSION 4...20mA, 12...30VDC (see load diagram
humidity
(1-) (2+)
4...20 mA
temperature
(3) (4)
4...20 mA
temperature
(3) (4)
czujnik pasywny
Ekran
(5)
 
Zakresy pomiarowe odseparowanegalwanicznie
Wymiary [mm]: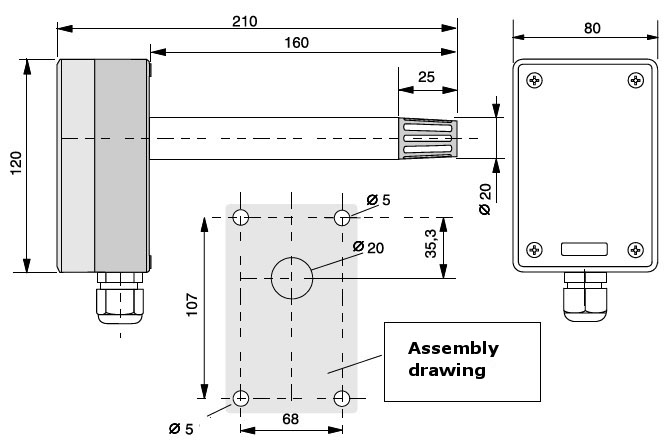 DIAGRAM PODŁĄCZENIOWY SERII WL
 
terminals
ranges
VERSION 0...1OVDC
supply
(1-) (2+)
(1~) (2~)
15...24 VDC
24 V AC ±10%
humidity
(3) (4+)
0...10VDC
temperature
(5) (6+)
0...10 VDC
temperature
(5) (6)
czujnik pasywny
not galvanic disconnected negative pole (1-) (3) (5) = common
 
terminals
ranges
VERSION 4...20mA, 12...30VDC (see load diagram
humidity
(1-) (2+)
4...20 mA
temperature
(3) (4)
4...20 mA
temperature
(3) (4)
czujnik pasywny
Ekran
(5)
^
Zakresy pomiarowe odseparowane galwanicznie
Wymiary [mm]:
Connection diagram series PL
 
terminals
BIB
VERSION 0...1OVDC
supply
(-brązowy) (+zielony)
(brązowy) (zielony)
15...30 VDC
24 V AC ±10%
humidity
(-brązowy) (+biały)
0...10 VDC
temperature
(-brązowy) (+żółty)
0...10 VDC
temperature
(niebieski) (żółty)
passive sensor shield
Połączone galwanicznie biegun ujemny (-brązowy) = wspólny
 
terminals
ranges
VERSION 4...20mA, 12...30VDC (see load diagram
humidity
(-zielony) (+brązowy)
4...20 mA
temperature
(-biały) (+żółty)
4...20 mA
temperature
(biały) (żółty)
passive sensor shield
Zakresy pomiarowe odseparowane galwanicznie
Dimensions[mm]: