Photos are for informational purposes only. View product specification
please use latin characters
Safety switch / safety door SNO 4062K / SNO 4062KM
Stop Category 0 according to EN 60204-1
• Reset button monitoring
• Manual or automatic start
• Single-channel or two-channel control
• Cross monitoring
• 2 enabling current paths, 1 signal current path
Application
• Protection of people and machinery
• Monitoring of emergency stop applications
• Monitoring of safety gates
• Monitoring of light barriers
• Up to PL e / Category 4 (EN ISO 13849-1)
• Up to SIL CL3 (EN 62061)
Function
The device is a two-channel switching device for emergency stop applications with self-monitoring on each ON-OFF cycle. It complies with EN 60204-1 and is equipped with forcibly guided relays.
Basic function:
With supply voltage applied to terminals A1/A2 and the safety inputs closed, pressing the reset button closes the enabling curre nt paths (manual start). When the safety inputs are opened/de-energized the enabling current paths will open.
Operating modes / system functions
•Single or two-channel control With single-channel control both CH1 and CH2 safety channels are connected in parallel; with two -channel control they are switched separately.
•Without cross monitoring Both safety channels are switched to the positive potential (S12 and S31 to S11).
•With cross monitoring Safety channel CH1 is switched to positive potential (S11 to S12), and safety channel CH2 to negative po tential (S21 to S22).
•Manual start
When the safety inputs are closed, a button is use d to open reset input S34 (triggering with falling edge) or to clos
e reset input S35 (triggering with rising edge).
• Automatic start
Reset input S35 is connected to S33. The device starts with the rising edge of the signal on safety input S12.
•Start inhibit
After supply voltage has been applied and the safe ty inputs closed, the enabling paths will not close. Starting is only possible after the reset button has been operated. For start inhibit the reset inputs have to be controlled with
the button, as with manual start mode.
•Restart inhibit
No restart after the safety inputs have been opened and closed. Restarting is only possible after the reset button
has been operated. For restart inhibit the reset inputs have to be activated with the button, as in manual start
mode.
•Semiconductor compatible
OSSD (output signal switching devices) signals from a light curtain or other safety sensors with semiconductor outputs can be processed. Test pulses <t TP do not influence the device functions. Test pulses >t TP can lock the device.
SNO 4062K
The function of this device corresponds to that of the SNO 4062K without synchro check. The device is suitable for connectin g to light curtains for Type 4 (EN 61496-1) and connecting to short-circuit formin g 4-wire safety mats,
switching strips or switching edges (without monito ring resistance).
•Safety mats
The device must be operated with two channels and cross monitoring. If there is resistance < 50 Ω / channel and
a short circuit between the channels (S11/S12 and S21/S22) the enabling paths o pen and the SUPPLY LEDs flashes.
•Light curtain for Type 4 (EN 61496-1)
The device will be operated with two channels and without cross monitoring, if the light curtain connected to the
OSSD detects a shunt fault on its own. For applications with tactile operating modes (rapid ON-OFF cycles, for example with manual supply) we recommend using SNO 4062KM
Connection scheme
SNO 4062K/K-A/KM/KM-A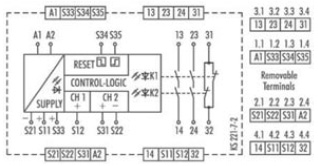 Function diagram
A1/A2
S12
S31/S22
S34
K1
K2
13/14
23/24
31/32
tW = Min turn on time
tA1= response time
tTP = test impulse duration
tR = trigger time
tW = return time

A1/A2
S12
S31/S22
S35
turn off
K1
K2
13/14
23/24
31/32
tSP = turn off time
tA2 = response time
tTP =

test impulse duration


tASP = turn off response time
tR = trigger time
tW = return time

Dimensions[mm]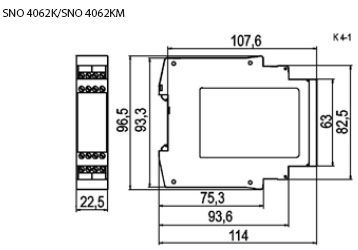 Overview of devices | part numbers
type
Rated voltage
Terminals
      numer    Std. pack
SNO 4062K
AC/DC 24 V     50 - 60 Hz
Screw terminals, fixed
R1.188.0690.2           1
SNO 4062K-A
AC/DC 24 V      50 - 60 Hz
Screw terminals, fixed
R1.188.0700.2           1
SNO 4062KM
AC/DC 24 V      50 - 60 Hz
Screw terminals, fixed
R1.188.0710.2           1
SNO 4062KM-A
AC/DC 24 V      50 - 60 Hz

Screw terminals, pluggable

R1.188.0720.2           1
Technical data
SNO 4003K
SNO 4062KM

Function

Emergency stop relay

Function display

2 LEDs, green

Function diagram

FD 0221-4-1 W, FD 0221-4-2 W

 

Rated voltage UN

AC/DC 24 V

Rated consumption  DC

2,0W

2,1 W

Rated consumption  AC

2,4 W/4,4 VA

2,5 W/4,6 VA

50 Hz - 60Hz

Operating voltage range U

0,85 – 1,1xUN

Electrical isolation supply circuit - control circuit no

no

 

Rated output voltage  (S11, S33 do S21)

DC 22 V

Input current / peak current

100 mA/2000 mA

100 mA/300 mA

Input voltage range
                                  niski

DC 17,4 V - DC 26,4 V
DC -3,0 V - DC +5,0 V

Input current / peak current  (S12, S31/S22)

40 mA/100 mA

Input current / peak current  (S34, S35)

5 mA/50 mA

Response time tA1 (S34)

20 ms - 40 ms

Response time tA2(S35)

200 ms - 500 ms

20 ms - 80 ms

Minimum ON time tM(S34, S35)

> 50 ms

Turn off time tSP

-

70 ms - 130 ms

Turn off response time tASP

-

> 7 ms

recovery time tW

≥40 ms

≥150 ms

Release time tR (K1, K2)

< 25 ms

Synchronous time tS

200 ms

-

 

Enabling paths

 

normally open contact, forcebly guided

Rated switching voltage  Un

AC 240 V/DC 300 V

Max. thermal current

6 A

Max. total current I² of all current path

9 A2

Application category ( EN 60947-5-1 360 h-1
                                                       3600 h-1

AC-15: Ue 230 V AC, Ie 4 A / DC-13: Ue 24 V DC, Ie 4 A
AC-15: Ue 230 V AC, Ie 3 A / DC-13: Ue 24 V DC, Ie 2,5 A

Switch over voltage Un

AC 240 V/DC 300 V

Load current

6 A

Application category  EN 60947-5-1 360 h-1
                                                       3600 h-1

AC-15: Ue 230 V AC, Ie 4 A / DC-13: Ue 24 V DC, Ie 4 A
AC-15: Ue 230 V AC, Ie 3 A / DC-13: Ue 24 V DC, Ie 2,5 A

Short-circuit protection (NO), lead fuse / circuit breaker

6 A class gG / melting integral < 100 A²s

Mechanical

10x106 switching cycles

 

Creepage distances and clearances between the circuits

 EN 60664-1

Voltage test

4 kV

Overvoltage category

III

Measuring voltage

AC 300 V

Test voltage Ueff 50Hz

2 kV

Protection degree according to DIN EN 60529 (housing / terminals) )

 

Ambient temperature / storage temperature

-25 - +55 °C/-25 - +75 °C

Drawing

K 4-1 (screws) /K 4-2 (plugs)

Wire ranges screw terminals,

2x 0,14 - 0,75 mm2/1x 0,14 - 2,5 mm2
1x 0,25 - 2,5 mm2/2x 0,25 - 0,5 mm2

0,5 - 0,6 Nm

Weight

0,21 kg
Send an inquiry
Are you interested in this product? Do you need additi