Photos are for informational purposes only. View product specification
MIP series pressure transducers
Heavy Duty, Media-Isolated Pressure Transducers 1 bar to 60 bar | 15 psi to 870 psi 
Honeywell
The MIP Series offers a heavy duty, media-isolated pressure transducer in a compact, stainless steel construction for use with a wide range of media including aggressive fluids and water. The MIP Series provides a cost-competitive solution for wide-ranging potential applications in tough environments.

VALUE TO CUSTOMERS

• Total Error Band (TEB) ±0.75 %FSS (Full Scale Span) from -40°C to 125°C: Provides true measurement performance over the compensated temperature range; small error promotes system uptime and efficiency (see Figure 4).

• EMC performance: Operates reliably in the presence of electromagnetic fields, such as wireless signals, RF communication, and electrical devices.

• Hermetically welded design supports almost any media without the use of an internal seal. The sensors are designed to be used in harsh environments that see aggressive media.

DIFFERENTIATION

• Diagnostics: Beneficial in applications where the sensor functionality and the need to know internal or external failure modes is critical.

• Great customer value: Multiple configuration possibilities provide flexibility of use in the application with no up front NRE or tooling charges.

• Durable: Provides the tough environmental capabilities needed, including long-term stability, insulation resistance and dielectric strength, external freeze-thaw resistance and EMC performance.

 

FEATURES

 Rugged, stainless steel construction
 Ratiometric output: 0.5 Vdc to 4.5 Vdc
 Operating temperature: -40°C to 125°C
 Total Error Band up to ±0.75 %FSS (-40°C to 125°C)
 Industry-leading accuracy: ±0.15 %FSS BFSL
 Long term stability: ±0.25 %FSS
 Radiated immunity: 100 V/m
 High burst pressure: 207 bar [3000 psi]
 Drinking water approval: NSF/ANSI/CAN 61
 CE, RoHS, REACH compliant
 Mis-wiring protection • Over voltage protection ±40 Vdc
NOMENCLATURE AND ORDER GUIDE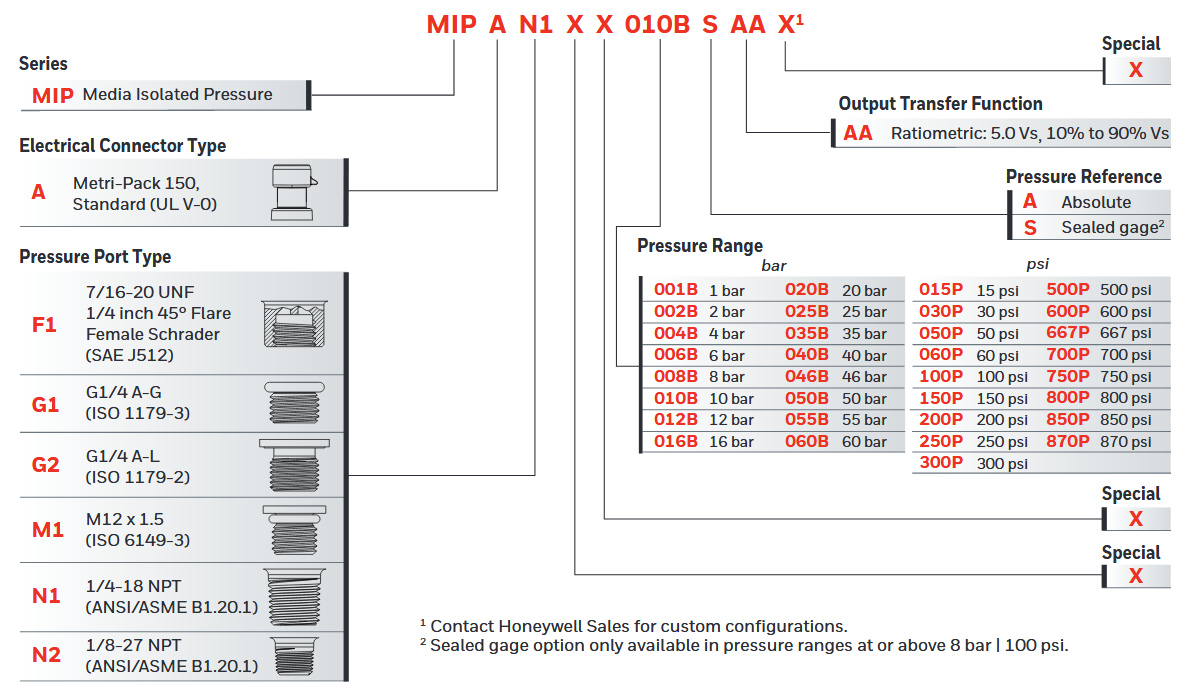 Send an inquiry
Are you interested in this product? Do you need additional information or individual pricing?
Contact us
ASK FOR THE PRODUCT
close
Message sent successfully.
ASK FOR THE PRODUCT
close
download pdf
Heavy Duty, Media-Isolated Pressure Transducers 1 bar to 60 bar | 15 psi to 870 psi 
Honeywell
The MIP Series offers a heavy duty, media-isolated pressure transducer in a compact, stainless steel construction for use with a wide range of media including aggressive fluids and water. The MIP Series provides a cost-competitive solution for wide-ranging potential applications in tough environments.
VALUE TO C