QUALITY MANAGEMENT
Facing the increasing quality expectations of our Clients, in 2007 we implemented the Quality Management System, compliant with PN-EN ISO 9001:2015-10.
Certification and supervision is conducted by Polish Center of Research and Certification (Polskie Centrum Badań i Certyfikacji). The system was approved with issuing the PCBC certificate.
Download the certificates – click here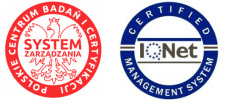 Providing high quality products and service, as well as continuously improving them, is a crucial element of processes conducted in all of the DACPOL Sp. z o. o. operational divisions.
We achieve our established goals thanks to the enormous commitment of the employees and enhancement of our procedures.
We especially value the efficiency of our work, fast deliveries and our products' storing and distribution ways.
We received the Reliable Business Partner certificate, granted by Polish-Ukrainian chamber of economy.